This first timers guide to a week in Palma de Mallorca is a simple takeaway of a normal person's view of this beautiful Mediterranean island.
None of the things in this list are extravagant and unreachable. Maybe some are Instagram-able but mainly focused on actually enjoying this beautiful island, especially when it comes to food, drinks, and beaches.
If you are interested in the key and most important points and not into going through this journey with me, they are all the way in the end, with bullet points (click here to go to the end)
Day 1 – Arrival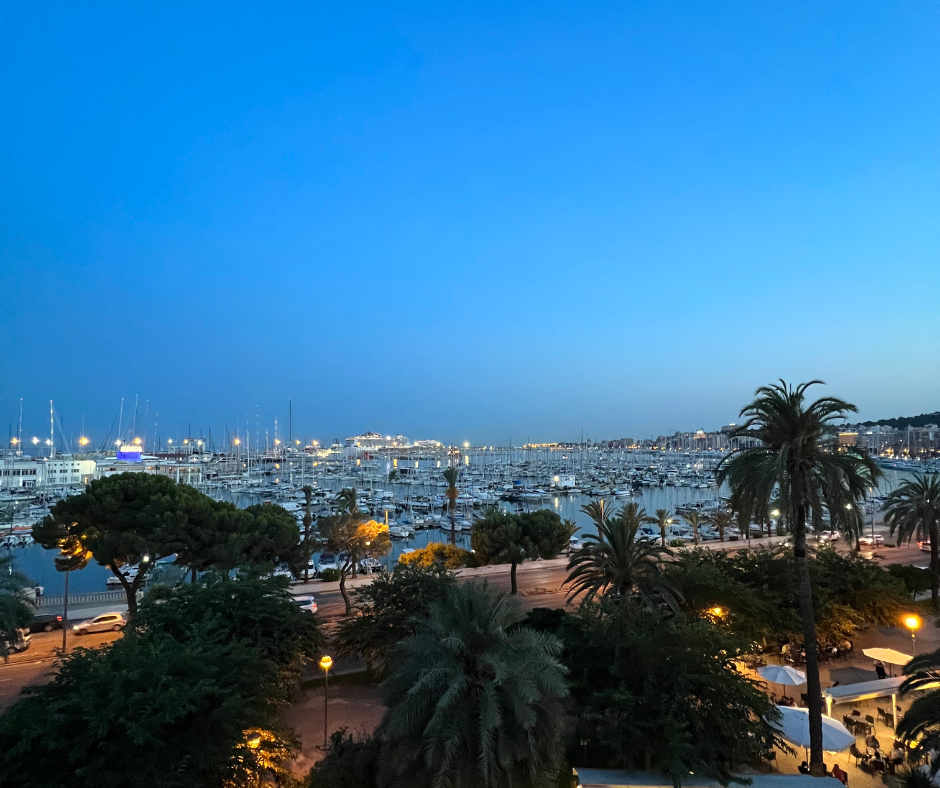 We try to stay away from the "full season" as much as we can, but we also would like to enjoy a bit of summery goodness, so we picked the middle of June as our favorite time to visit. You can get away even coming a bit early in the month, but the middle of June was piping hot and just yummy.
Arriving from northern Germany on a Wednesday, with a low-cost airline booked many months in advance, the first impression is the humongous and very well-organized airport. Most airlines have multiple flights per day (at least from Germany) even at the beginning of the season. We picked up something in the afternoon.
In the airport, you feel that you are in the Mediterranean. It's already hot and sticky, but you know – the good kind, the vacation kind, the "a week in Palma de Mallorca" kind
We hopped on the A1-Es Baluard bus and got to Palma, the biggest city on the island, and in my view the place to stay. The hotel, was about 15-20 minutes away from the last station of the airport shuttle, so as it was evening, we thought about walking so we can check out the vibe, maybe any open kiosks to pick up some water or even a potential food destination.
Surprisingly a lot of shops were open so we had no issues there.
We booked the hotel, right after the plane ticket, so months in advance, to pick something nice-ish in a very nice central location by the harbor in Palma. That area is highly recommended as it is a bit off the old city, but it also had this amazing-chill-yacht-surrounded vibe to it.
After checking in, we immediately went for a walk in the harbor of Palma, which was gorgeous, and sat in a random restaurant that looked okay-ish and grabbed some Paella.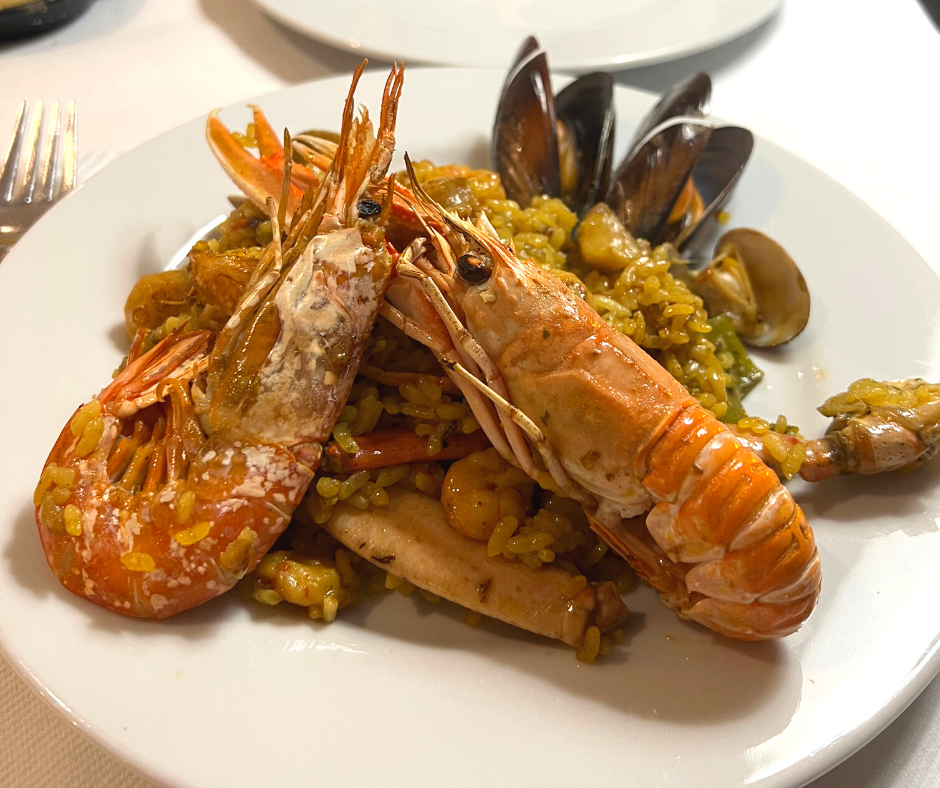 The food was delicious – and I will stop for a second here: even the bad food was good in Mallorca – so don't worry much about it!
Day 2 – Let's hop in the water: Playa Cala Pi
After a good night's sleep, with the help of air conditioning, we got up early and went in for a walk in the harbor. Right there you feel like summer and vacation, the quietness of a getaway city in the morning is idyllic.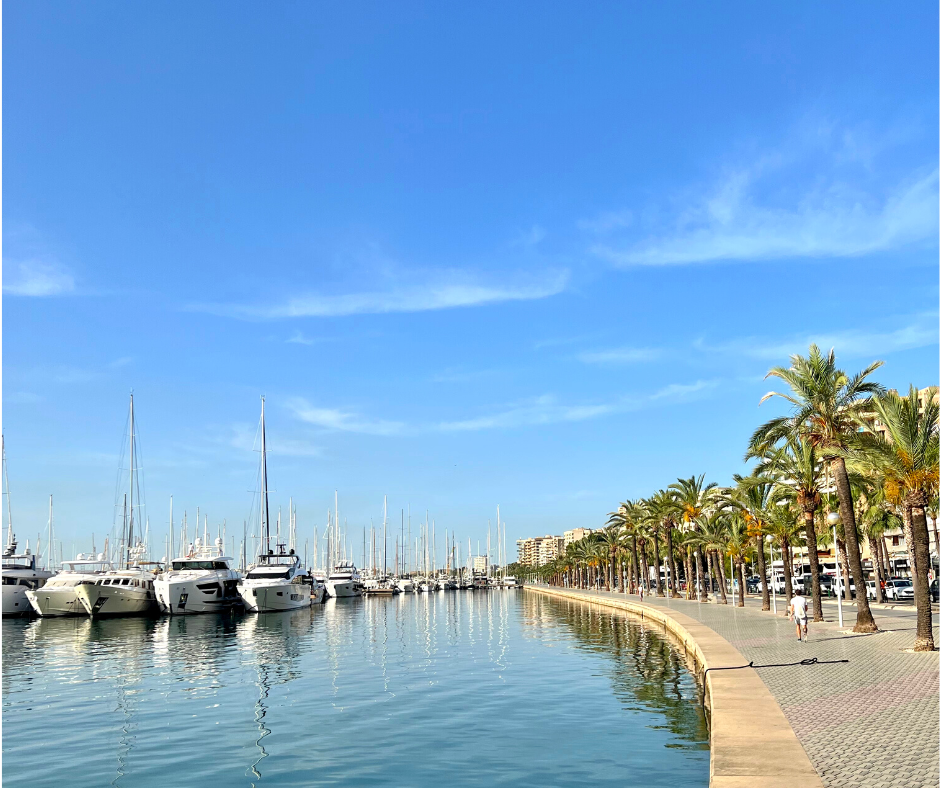 Breakfast places were all around, so grabbed a couple of pastries and coffee.
We especially like exploring supermarkets, so the first thing that we did was go visit a nearby Mercadona which is a supermarket chain in Spain. We picked up some snacks and water.
Hopping onto the Number 25-Arenal bus to, Arenal where I had reserved a car to pick up from Sixt.
There are plenty of cheaper choices, but especially when it comes to renting cars, I like Sixt and their all-inclusive insurance. I would rather not deal with drama.
You can definitely move around with public transportation and to be honest, this was the plan, but two weeks before the flight, they had some discounts, so I went for it.
I am used to driving around in small Greek islands, or the Albanian south where you are literally driving up and down mountains to go anywhere, but this week in Palma de Mallorca was just a pleasure to drive around.
We made a stop at a nearby Carrefour which was more like an American Mall to pick up some beach towels. Grabbed more snacks (obvi) and pedal to the metal to a nearby beach, Playa Cala Pi.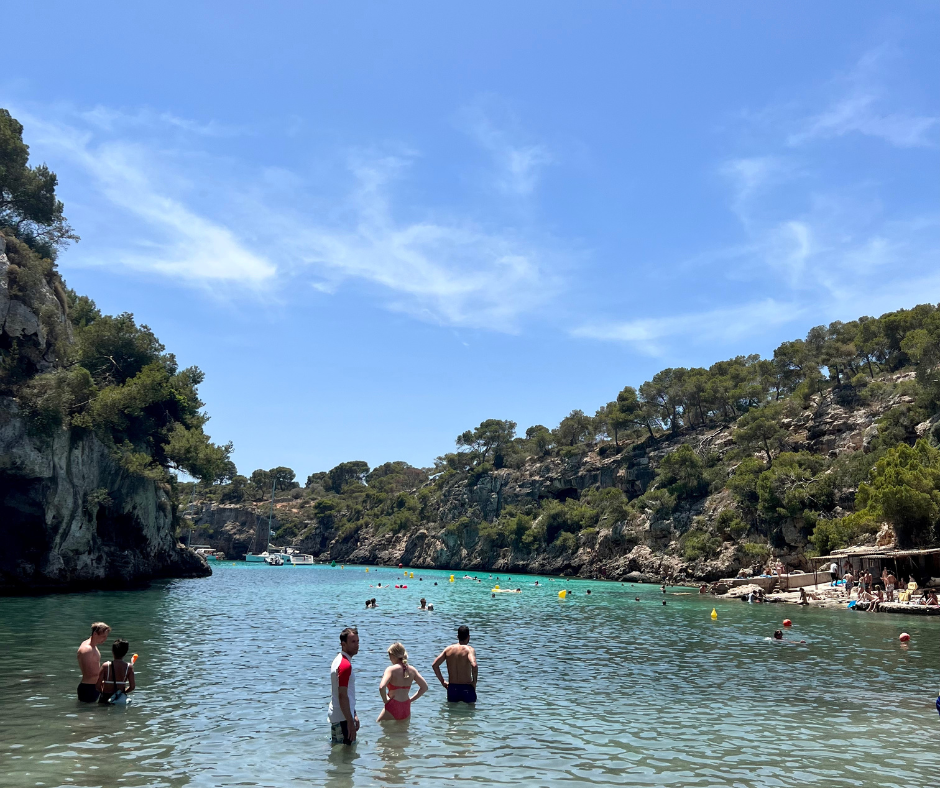 Oh man…happy memory: check.
We parked on one of the side streets and walked to the beach. This cove-like beach was such a pleasure to be in. We did not have an umbrella and there were no beach beds around it, but there were trees, so we put our towels in a corner and hopped right in.
After spending a couple of hours, hopping in water, reading, and snacking, it was time to head out as we had a fancy plan for the evening.
Dinner is eaten usually a bit later in Spain, and Palma was no different. We booked a table at a local recommendation of ours: El Pilon in Palma.
It was the first real dinner and we ordered a lot! Some Patatas Bravas (which are typical fried potatoes with a hot sauce), Pimientos de Padrón (fried small green peppers with a fleaky salt), Chipirones con aioli Pilón (fried baby squid), Croquetas de jamón and the Pulpo mallorquín (Grilled whole octopus). We felt like a Cerveza so, we had to have a couple.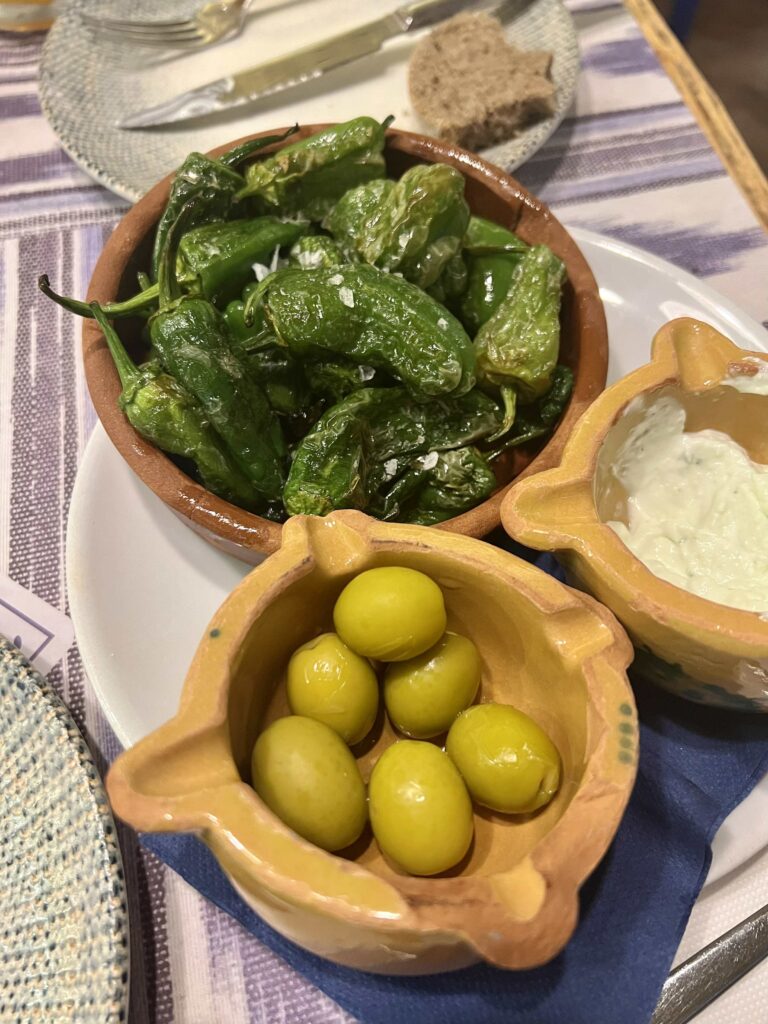 Finished with a Crema Catalana and this green herbal brandy, which was nice to top it off.
The night ended slowly walking (or rolling) back to the hotel getting lost on the old city walls. Just enjoying the vibe.
Day 3: A popular beach hotspot and ranching
We hopped on the road after some croissants and 2 strong coffees and headed towards the north of the island.
We stopped for the day at Plaja de Muro, which is the amazingly vast and shallow sand beach filled with hotels, and places to eat – an all-around tourist trap, I guess…
It was good-ish, but a bit too civilized for me. We rented some beach chairs and sat there for a couple of hours, grabbing the occasional ice cream treat and snacks, reading page-turners, and just chilling.
For lunch (or late lunch) we had picked a spot in the middle of nowhere about 30 minutes away from Plaja de Muro. Rancho Grande Park was this special, middle-of-nowhere ranch, that had some of the most amazing food.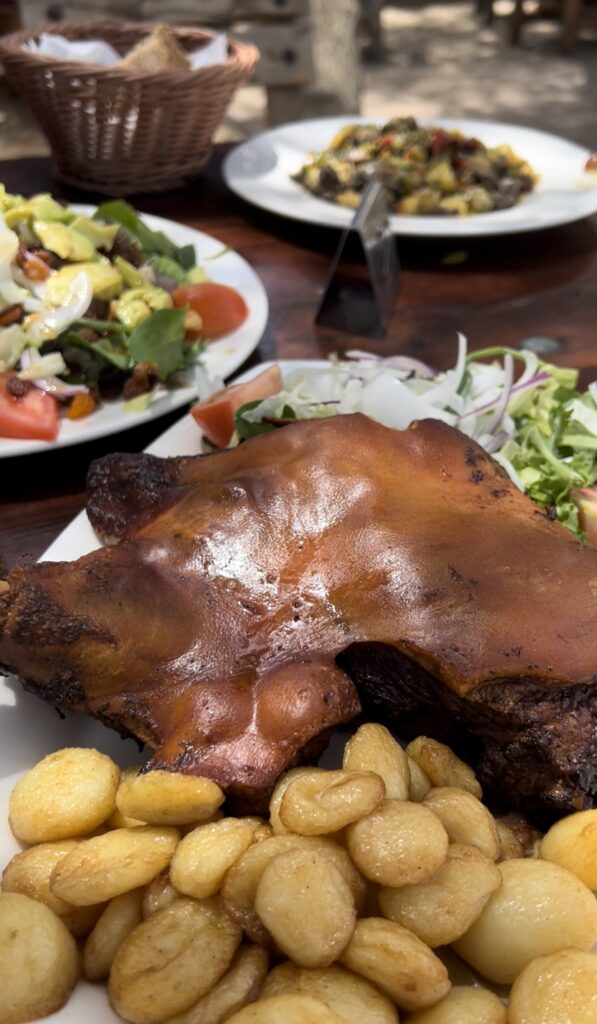 We sat outside, as it was this refreshing summer wind, and ordered a salad, some tapas, a Frito Mallorquin which is nothing else except a potato-based stir fry typical of the area, and a suckling pig with potatoes.
There were animals around and open views. The only thing we would hear was the wind and the trees.
While heading back to Palma, we decided to take this other route, going up and down some hills, while listening to a bit of chill bossa nova hits.
Felt extra fancy there.
After a nice nap, we visited a supermarket, and this rice pudding (Arroz con Leche) caught my eye. The special thing about it is that it had this refreshing tangy lemony flavor. Definitely try a rice pudding in Palma. Followed by an Estrella by the harbor – life can't get any better, right?
Oh, and Friday night in Palma was wild, filled with people partying and fairly drunk. A general all-around good mood, so nothing to worry about.
Day 4 – Two beaches in one and THE market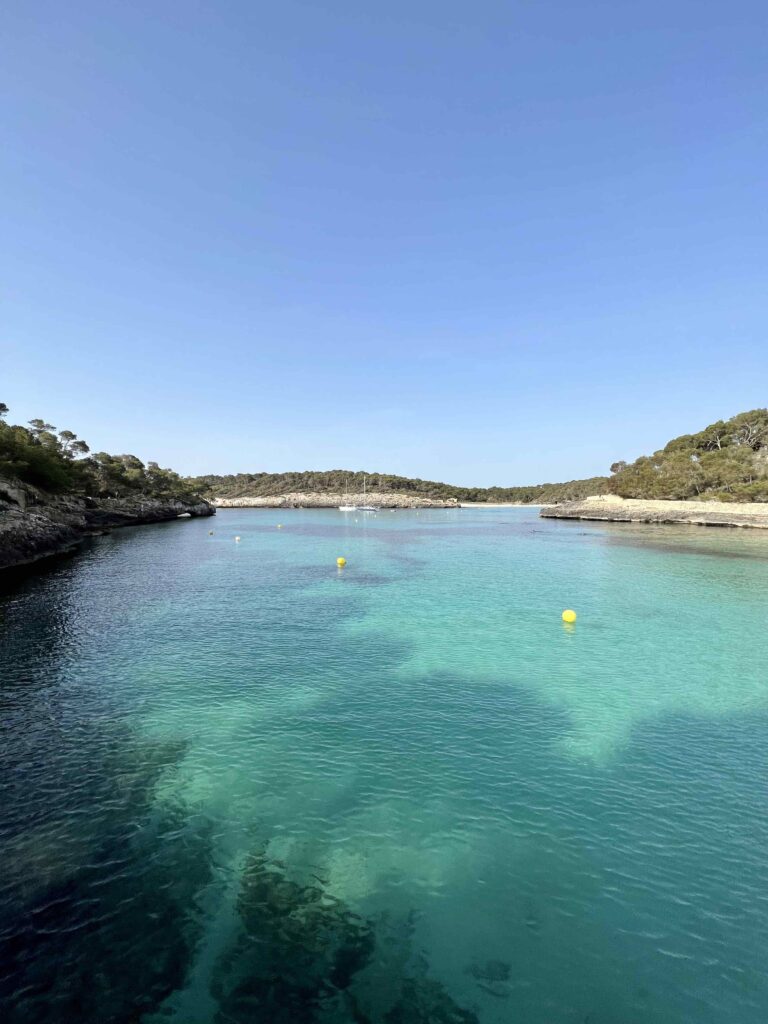 As by now it was Saturday, and we really wanted to eat lunch at Mercat de l'Olivar, which is this famous fish market which you seriously can't miss, but we also wanted to go to the beach.
We picked Cala Mondragó and Platja de s'Amarador which coincidently were a walking distance of each other. Parking is not really allowed down at the beach area, but there is paid parking just up the hill, 5 minutes away. We parked there, at Cala Mondragó Parking and just sat by the trees.
This place was idyllic. The water was just perfect. We spent the first part of the morning in one, and the rest in the other. After not wanting to leave, but also really wanting to visit the Mercat de l'Olivar, we just headed out.
At the Mercat de l'Olivar, my recommendation would be to leave the car at the hotel you will definitely get out of there tipsy. We just had everything there, with the oysters being the highlight. The octopus, the croquetas, the gambas al ajillo, the pimientos de padron, and obviously another round of oysters, because why not.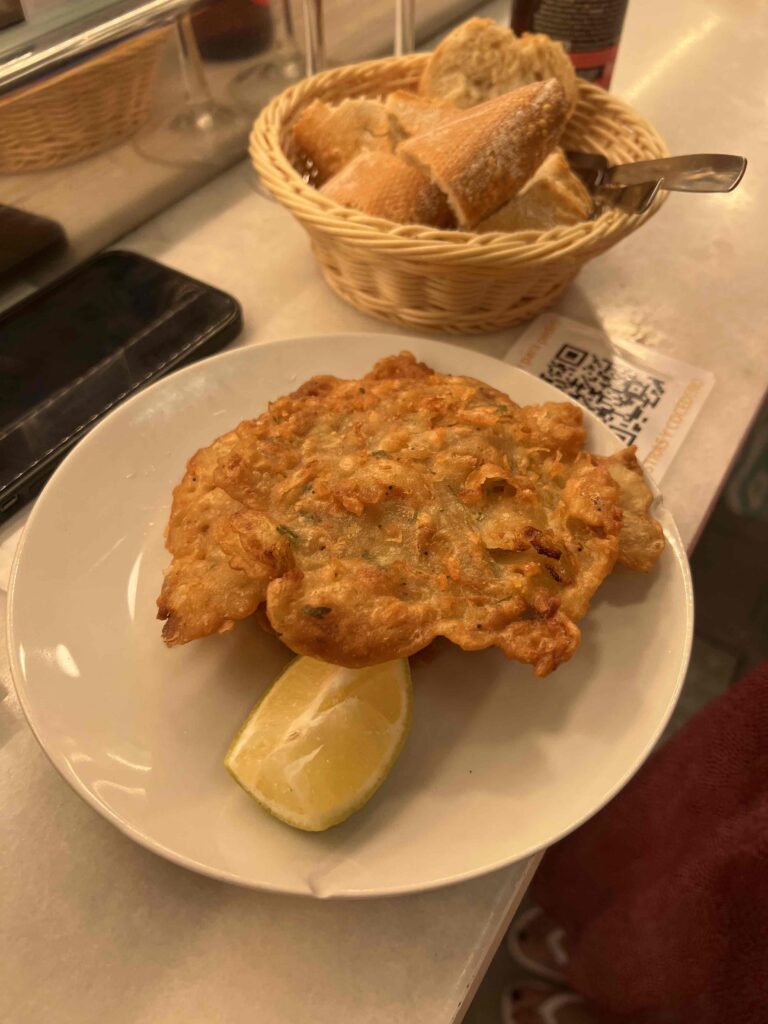 After the obligatory siesta, we spent a bit of time around the old city, walked around a bit, and occasionally shopped, mainly for their air conditioning rather than the actual need to shop.
Day 5 – Little Germany and a bit of vermouth
The plan was just to rent a car for three days and then chill a bit, mainly due to the fact that it was expensive but also, why not switch it up a bit.
We did not get enough of Cala Mondragó and Platja de s'Amarador so before dropping off the car, it deserved another quick visit. Unfortunately, it was a bit windy that day, so the idyllic beach wasn't so clear – still fun though.
Sixt was at Arenal, so after dropping off the car, it was only natural to check that beach out. It felt like Düsseldorf's Hauptbahnof on a Sunday morning, with hangover stag parties blasting schlager music while waiting for their train. Fortunately, between two beer places, we found this Mallorcan place, which was empty but had just simple, easy, delicious tapas and cold cerveza's.
In the evening we had booked a table at this hyped place in Plama, La Rosa Vermutería. This was the first time that an eating experience in Mallorca was meh.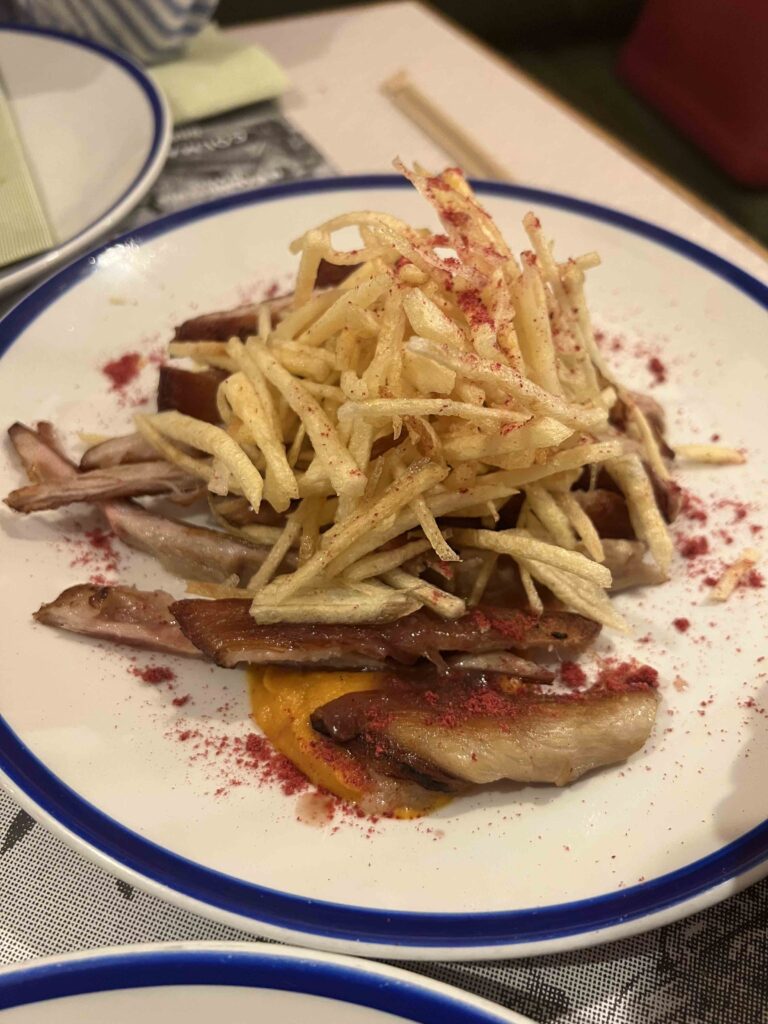 Maybe the fact that it was too busy, or maybe something else, but we did not really enjoy ourselves. I hope that this is a one-off thing, as the place looked very nice.
Day 6 – Being lazy at Playa de Illetes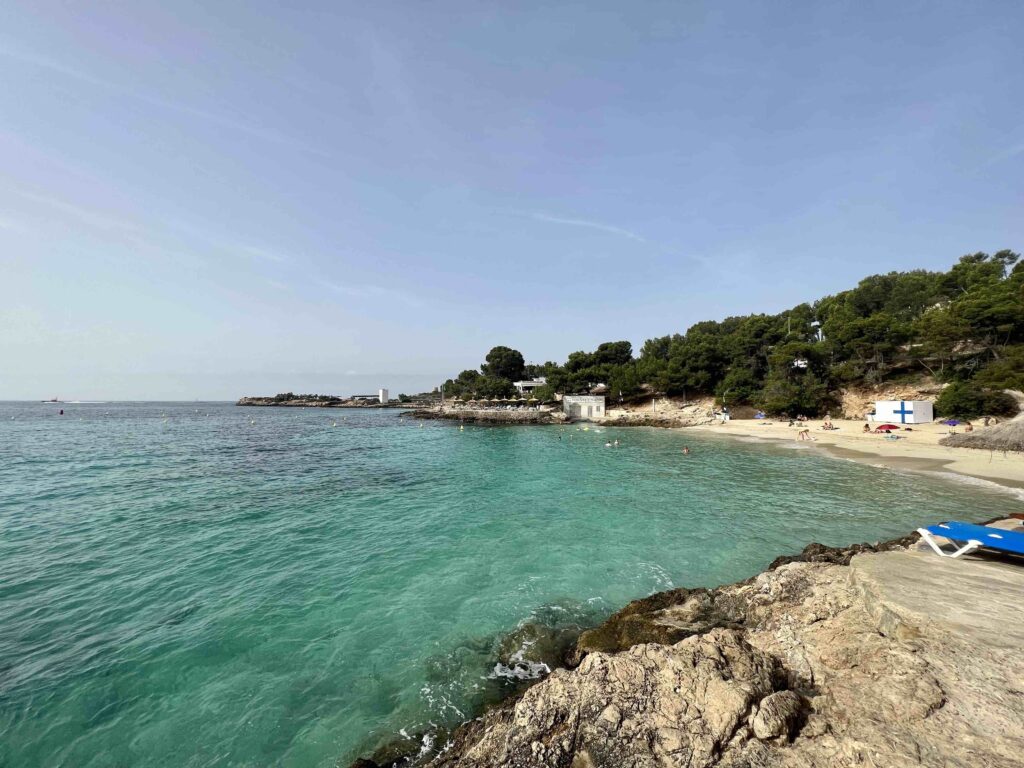 We got the Number 4 – Illetes bus to Playa de Illetes and spent the day there. This is a small beach on the South-West side of Palma de Mallorca, and my god, the number of people there.
We needed a secondary serving at Mercat de l'Olivar and after the much-needed Siesta, we ended the day with a cerveza serving and some tapas.
Day 7 – Obligatory duty-free shopping and back to reality after a week in Palma de Mallorca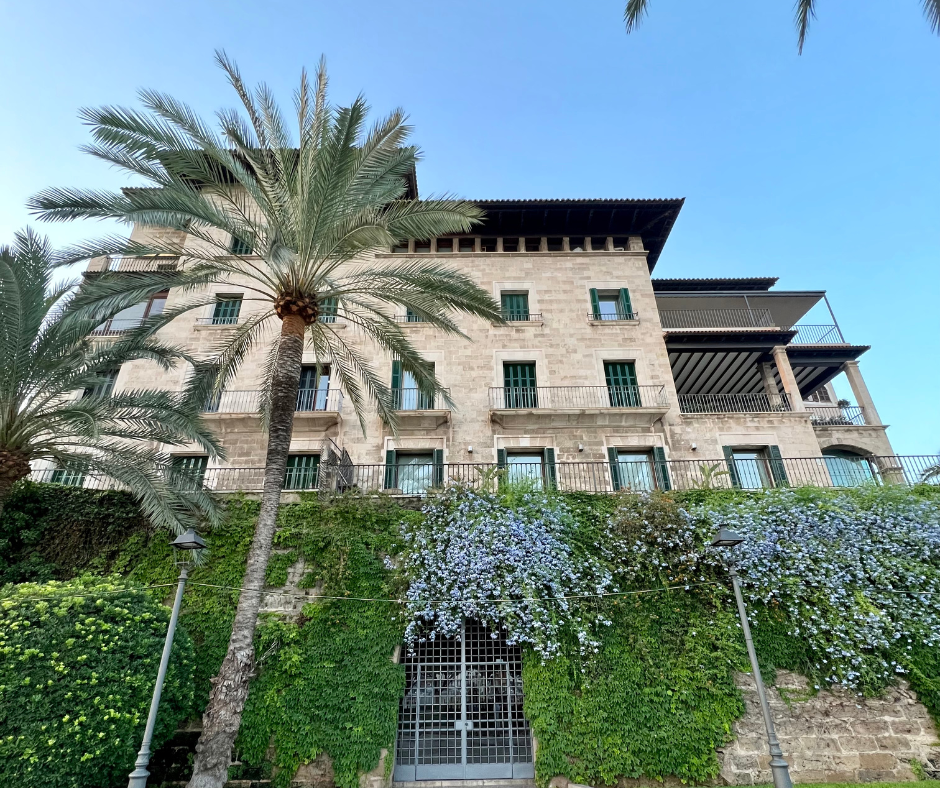 After checking out, we took a taxi to the airport, for like 20-ish euros and just chilled there. Did I tell you that this place was just humongous? After some McDonald's soft serve ice cream and uber expensive coffee, we headed out. This was a week in Palma de Mallorca in my eye, obviously and most definitely. we are coming back. Now it's time for some end-of-month meals.
tl;dr – Key most important points
Must eat at El Pillon, Rancho Grande Mallorca and Mercat de l'Olivar
Must visit: Playa de Illetes, Playa Cala Pi, Cala Mondragó and Platja de s'Amarador
Taxis are not that expensive
Public transportation works fine, but it is just a bit too slow
For the best experience, one should rent a car and park responsibly
Palma is hot, hydrate yourself and have a siesta at lunchtime
Majorcans speak Castilian Spanish and Mallorquin, a dialect of Catalan. A lot also do speak English and German
Google Maps will get you everywhere.
A week in Palma de Mallorca is enough to visit a lot of things, but always not enough