The best sauce for ravioli is simple, decadent, and very versatile. This recipe will cover concepts and components of how to personalize it!
I am always a fan of fresh store-bought ravioli, for a couple of main reasons that pertain to mainly my laziness.
Reasons:
They are fairly fresh pasta and a complete change of pace from what we are used to on the day to day
Their condiments are usually fairly standardized and you can not go wrong with them – from the amount of filling to the thickness of the pasta. Obviously, if you make it yourself, it will be tastier, but it takes a whole lot of practice to get it right.
They go with simple sauces or complicated sauces
They have a "wow" effect. Goat cheese and caramelized onions ravioli sound so much better than goat cheese and caramelized onions spaghetti.
For the purpose of this sauce, I have picked up some ravioli that are filled with a bit of sweetness to it. Helps complement the flavor. Alternatively, something meaty also will do. Here are 5 other pasta recipes that anyone can do if this does not interest you.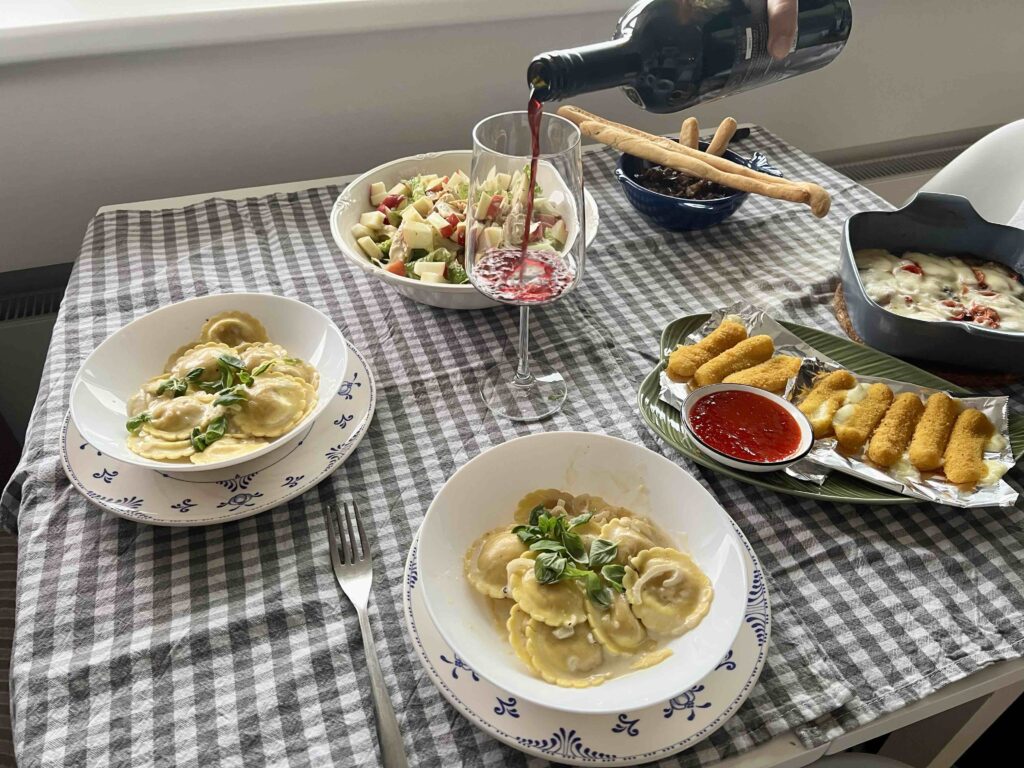 Components of the best sauce for ravioli
The core components of this sauce are:
A nice sweet onion. Usually, anything would do, but if you have something on the sweet side, its is even better. We will let this sweat with a bit of butter
A form of goat cheese. You don't really have to be fancy with it. The taste of the sauce will reflect the taste of your selection of goat cheese immensely. So if you do not like the cheese, you will not like the sauce. On a positive note, I have tried this sauce with the spreadable goat cheese and it comes delicious!
Butter and a bit of garam masala for that "wow" – you can skip on the garam masala, but you can't skip on the butter. It is very instagramable.
Deglaze with some sort of alcohol. I used and usually like the sweetness of limoncello added to it, but generally, you can use white wine or some sort of brandy.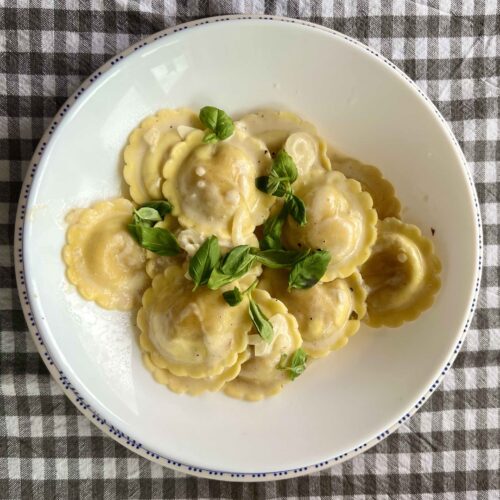 The best sauce for ravioli – Goat cheese and caramelised onions
The best sauce for ravioli is simple, decadent, and very versatile. This recipe will cover concepts and components how to personalize it!
Ingredients
2

tpsp

goat cheese

1

onion

1

clove

garlic

1

pinch

garam masala

4

tbsp

milk

1

packet

ravioli

2

tbsp

Limoncello (or alcohol of choice)
Instructions
thinly slice the onions and garlic.

warm a pan with low-medium heat and add a bit of butter to it.

throw in the onions and garlic and slowly sweat them – we are looking a bit more than translucent here

after the onions are soft and deglaze them with the limoncello. In here you can use your own choice of deglazing alcohol – from white wine to a brandy.

add the milk and the goat cheese and bring to a boil and season to your liking (salt and pepper and anything else – I went for garam masala

cook the ravioli as noted on the packaging (maybe even 1 minute less)

add the ravioli to the sauce and throw in a bit of pasta water to it.

carefully mix everything and add a bit of butter to thicken the sauce and get everything togehter.