A baked salmon with vegetables is always a good idea – especially so when all you have to do is add them in a casserole and just let it bake.
The problem with fish is that it always requires a whole lot of attention and makes a big mess everywhere. Here are the key takes of this recipe:
You can use this approach for every single type of fish fillet that you can think of.
I always cover my casseroles. I help keep everything moist and reduces the chances of you burning it. In the last 10-15 minutes, you can uncover and let it get some good color.
180 degrees is enough for these types of bakes. You do not need to have it high burning everything up
Potatoes are usually the veggies that take the most to cook. Take that into account when you put them with a delicate fish. I usually pre-boil them and add them the last 15 minutes to get them a bit crispier. If you are out of time, use softer vegetables like eggplant or zucchini. They cook much faster and you do not have to worry about anything.
You can eat this hot or cold. As there is plenty of juices, it will not necessarily dry up once it's cold. In other words, you can take this baked salmon with vegetables with you as your work lunch and not have to use the microwave
Notably on the vegetables chosen, keep in mind that you can use whatever you want or you see fit. At the time that I am writing this baked salmon with vegetables is the middle of the summer so zucchini and asparagus are very much a good way to go. In the winter you can switch with broccoli and cauliflower. It is such a flexible approach!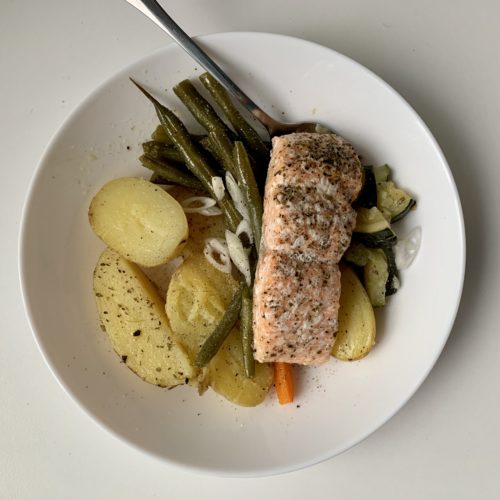 Baked salmon with vegetables
This baked salmon with vegetables is the staple fish dish concept that you will need. Once you get this, you will be able to tackle all the other types of fish fillets.
Ingredients
3

medium potatoes

400

gr

salmon fillet

50

gr

green beans

2

medium carrots

salt, pepper and olive oil

1

bay leaf
Instructions
In a pot cold water add the potatoes and let them boil for 20-30 min

Peel the carrots and cut them in quarters lengthwise. We are looking for almost bite size quartered carrots

Cut both endings of the green beans and wash them

Wash the salmon and pat it dry. We will be keeping the skin so if you do not like the feel of scales, remove them. Note that I am picky here but on most of the cases, the skin can be cooked as it comes from the supermarket. Cut it in the portions that you want to serve it.

in a caserole add a bit of olive oil and spreadt it around

add the veggies and marinate them with salt and pepper. Mix them around and make sure to open a spot with a bed of green beans for the salmon fillets

Preheat the oven on 180-200 degrees celcius

At this point you have two choices. Either remove the potatoes (as they are not already cooked) and let them finish in the casserole OR let them finish boiling, cut them, and add them in the casserole in the last 10 min for a quick bake. I usually chose the latter as my casserole is a bit small

Cover the whole thing with aluminium foil and let it bake for 30-40 minutes.

At the 30 minute mark, uncover, increase the heat to 220, add the potatoes and let it be for 10-15 minutes or till the salmon is cooked and the carrots are at your preffered softness.

Serve them immeditelly and do not forget to add some of the juices on top