Bacon and spinach gnocchi with a butter sauce are some of the most tenderly delicious gnocchi recipes that you will ever find. Before we start, I would like to remind you that if you are interested in learning how to make homemade gnocchi. We have a recipe for that.
So let's say that you are here after reading the homemade gnocchi recipe, the components that you have to take into account when it comes to cooking gnocchi is that it cooks very fast. So fast that it's pointless to cook the gnocchi and make the sauce, or try to do them simultaneously – you do everything first and then you do the gnocchi.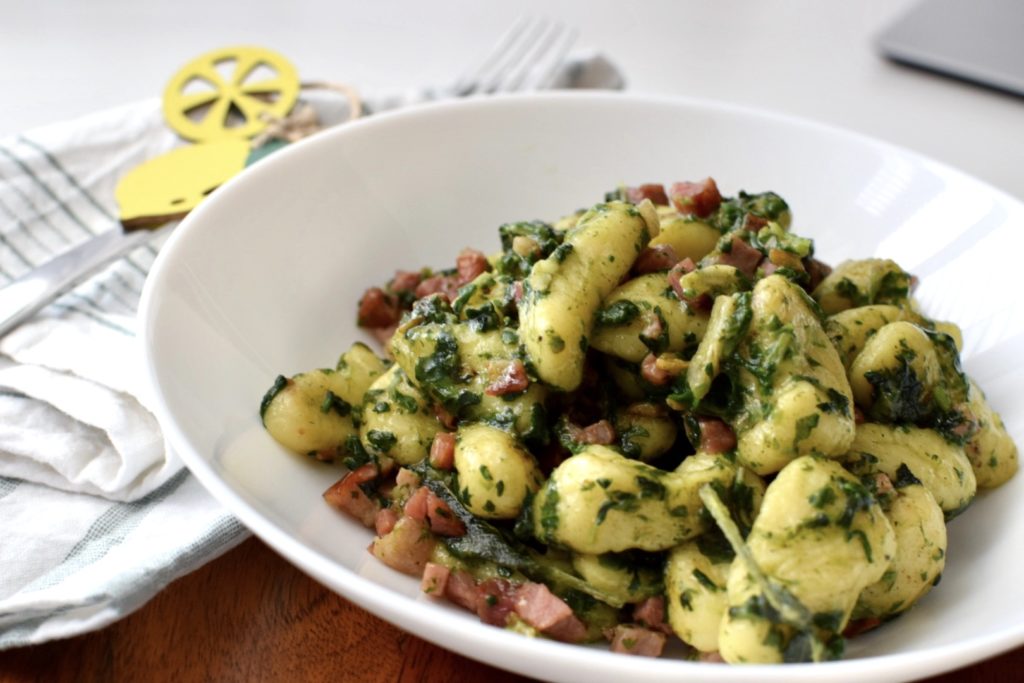 You will need:
Bacon – cubed or strips or whatever.
Spinach – fresh, frozen or whatever
Butter
gnocchi – homemade or not
How to get it done:
Depending on the type of spinach that you have all you have to do is sear the spinach in a hot pan with just a tiny bit of oil so it does not stick. It will release a lot of liquid and when those liquids are done, marinate them with salt and pepper. Put it aside and clean the pan
Throw in the cubed bacon in the pan with no oil. Cook them till crispy and retain the bacon fat.
In a big pot of salted boiling water throw in the gnocchi. If they are homemade, cook them till they float. If they are store-bought, cook them based on the directions on the packaging. Drain them after they are cooked
Add a tablespoon of butter in the bacon fat. After it melts, in this order, add the gnocchi and mix it up.
Add the bacon and spinach and mix everything together while turning off the heat.
Everything is ready!
Click the link for more Gnocchi related recipes, and do not forget to follow us on Instagram for more cool stuff like this bacon and spinach gnocchi.