non-instagram friendly normal food
This general trend of overnight oats become such a big deal which those very beautiful Instagram friendly bowls. Realistically though, those complicated bowls, with countless ingredients, some of them being exotic, has the tendency to get a bit on the expensive side.
Here in Kitchenette Recipes, we do not like that. As such the focus of this post is to explain the required components to make some delicious, healthy, filling yet friendly for your wallet overnight oats.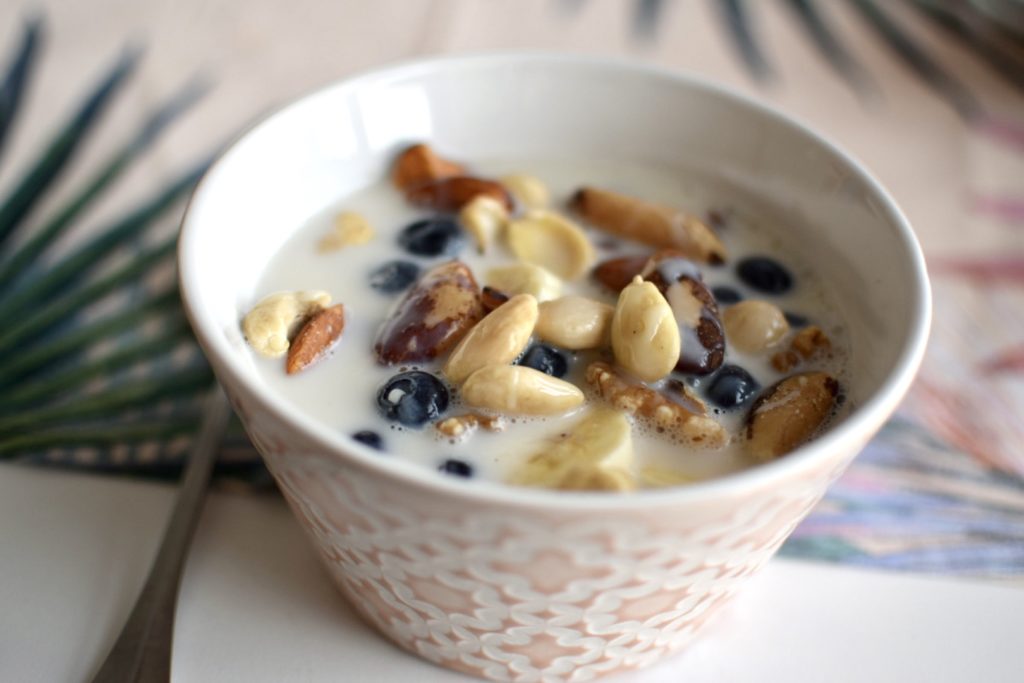 What do you need:
Oats
Yogurt
nuts
fruits
a natural sweetener if you have a sweet tooth like honey
How to get it done:
The base: oats
When you go to the supermarket, in the breakfast section, you will see a crazy selection of different oats, ready to eat Muesli, cornflakes, etc. The important part here is that you need to look at the bottom, for the cheap and easy natural oatmeal without any added additives. Here you will find a couple of types that differentiate based on the flake size. The best, in my opinion, is the finely grained one. The reasoning is that it takes less time to be integrated and it basically just get mixed almost immediately. 
Now, this is a very personal decision, as such, feel free to experiment. As they are cheap, they will not hurt your wallet.
The liquid: Yogurt or Milk
Anything works, but yogurt is more settled and you will not get out of the house with a stomach full of liquid. As such, I recommend yogurt. Mix the oats with the yogurt in a sealable container and put them in the fridge overnight. The more you leave them(overnights, not hours), the more the oats are going to retain moisture.
If you do not leave them overnights, the oats tend to be a bit crunchy to eat, so if you are the type of person that forgets stuff, get the finely grained oats – easier to eat
At this point, we are at a stage where you can have enough fibers to jump-start your day, but it's not that tasty.
Nuts & Seeds
Nuts and seeds would needed natural fats and nutrients for you to be a better you. Now in here, you should aim not to overdo it, as too much of a good thing is not always good.
I would recommend using one type per bowl. As a mixture tends to be overpowering and different nuts have different chewability points. One just makes a better bite and a cheaper variation.
Anything goes here though.
Fruits
Fruits can add that extra punch and make it all fun to eat. Feel free to add anything but, in my opinion, the go-to component should be the banana, as it is sweet enough not to require any of the next steps. Here you can explore anything from fresh to dried fruits but with two key recommendations: the sweeter and the less liquidy, the better. We got nothing against oranges, but keep in mind that they are a bit liquidy. 
Sweetener (if any)
In case there are any issues and you feel like you need to add a bit of sweetness to the whole lot, feel free to add some sort of sweeteners like agave, honey or even maple syrup. Now keep in mind that fruits have a lot of sugar here, which means that you have to be careful. Too much of this stuff is not great as well.