Chili con carne is one of those dishes that you can make almost anywhere with just a simple deep pan. Its ingredients are easily found everywhere in the world and you do not need a fancy supermarket to get it. Also, it is one of those dishes that forgives. You do not have to get it right because you can not get it wrong. It can not be too spicy or too salty nor too liquidy or too chunky. Whatever it comes out it will be fine and hearty, delicious and yummy.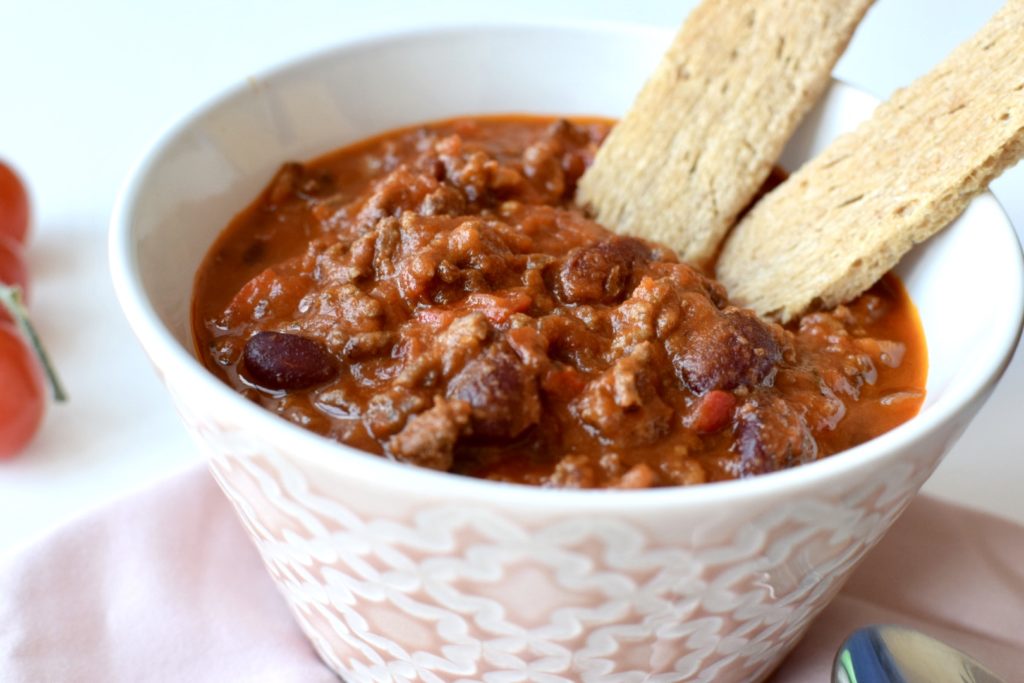 In the end, everyone(or just you) will love it.
If you mess up:
Too salty or too spicy, add some more liquid and let it evaporate.
Too liquidy: let it cook more
Too chunky – add more liquid and let it get together
Too meh – needs spiciness
Some comments that experience has shown:
Chili con Carne is always considered a dish that you need to share as you would need to cook a big batch either way. Well sorry but this is not correct. The best time to eat Chili con Carne is when it is cold has gotten a little thick. So let me paint the picture: You have cooked it on a Saturday but could not eat anymore. You wake up on Sunday, on your jammies and while you put on your favorite sitcom (friends obvi), just grab a bit of cold chili con carne to give you a nice kick.
You can always make it spicier, please be considerate (also some people are against it) so also be considerate of others.
Enjoy making it, don't be rushed maaan.
You will need:
Minced meat
A can of chopped tomatoes
A can of beans
1 onion
Something to add some spice – like a chili pepper or even some sort of chili sauce
A tiny bit of milk
Salt and pepper
Process:
Get a deep pan with some sort of oil. Olive oil is the best and once heated add the minced meat. Scatter it around just a bit and let it sit there. What we are looking for here is for the meat to form some sort of a crust on that side. That crust will give it a cool flavor once all it's done. Now if you move it around – it's not the end of the world, but this is just a trick to get better. Marinate the meat with salt and pepper.
Once the meat has browned on both sides, remove it and add some chopped onions. The reason why we are doing this is that if we would add the onions and then the meat. The onions would overcook and the meat would not brown. I usually get one of the bowls that I will serve the chili con carne and throw the meat there.
At this point, I really like to marinate the onions with dried garlic, salt, and pepper so it properly sweats. I am sure that you have heard the term "translucent" – this is when the onions become a bit transparent. If you wanna be fancy about it, once the onions are translucent, throw in the sautéed minced meat, else just cook the onions a bit and then throw In the meat again. The reasoning behind here is that the onions will cook with the sauce.
Note here: to get the best sauce in the world, the base needs to have a Mirepoix (or commonly known as 2 parts chopped onions, 1 part chopped celery and 1 part chopped carrot). Yeah it is fancy and the sauce will be properly thick and super tasty, but it also takes ages to cook. We here are talking about simplicity so just do not bother.
Add in here the can of beans. Now depending on what you get – if you get the beans in water, rinse them off. If you get them in some sauce, dump in all of it. I usually get red kidney beans in hot sauce (because they cheap yo)
Give everything a quick swirl. Let the whole thing start bubbling and then throw in the can of chopped tomatoes.
Note here: Get one of those tubes of tomato concentrate. They will make your life so much better and with the can of tomatoes, you do not need to do anything fancy. Also – I am sure that most of the supermarkets have a lot of choices – here just go for whatever is cheap. It's a tomato paste, for crying out loud, no need to be bourgeois about it. Here is the time where you add the spiciness – you can add it later, but at this moment, if you mess up and make it extra spicy you can correct it afterward.
For some magic sprinkle a bit o sugard in the mixture. What the sugar does is kills the acidity of the tomatoes. If you would be using some pre-ready made tomato sauce you do not need this as it would already be there.
The moment the mixture starts boiling, lower the temperature and put a cover on it.
Normally, 15-30 min and everything is ready. Less time means more liquidy. More time, less liquidy. On that note, the more you leave it the more delicious it will get as everything is deconstructed.
Just a tiny bit before it's ready, add a couple of tablespoons of milk. It will change the taste profile to a smoother mixture. I personally like it. You will too. Unless you want to have a very raw tomato soup
Take it off the heat and let it sit for a couple of minutes.
When you serve it, add just a bit of yogurt on top – it gives some freshness to it all and if it's too spicy it will make it a bit more enjoyable