The homemade pita bread is one of those bread types that are cooked in a hot pan and require no actual baking and go wonderfully on a platter or for gyros.
tl;dr: combine the water and yeast and let rest. Add the wet ingredients together, and then combine the mixture to the dry ingredients and work the dough. Divide into small balls and spread the dough, fry each side for 1 minute with just a bit of olive oil.
This is a complimentary recipe to extend your chicken gyros if you are feeling that you need to experience the next level, soft and delicious pita bread.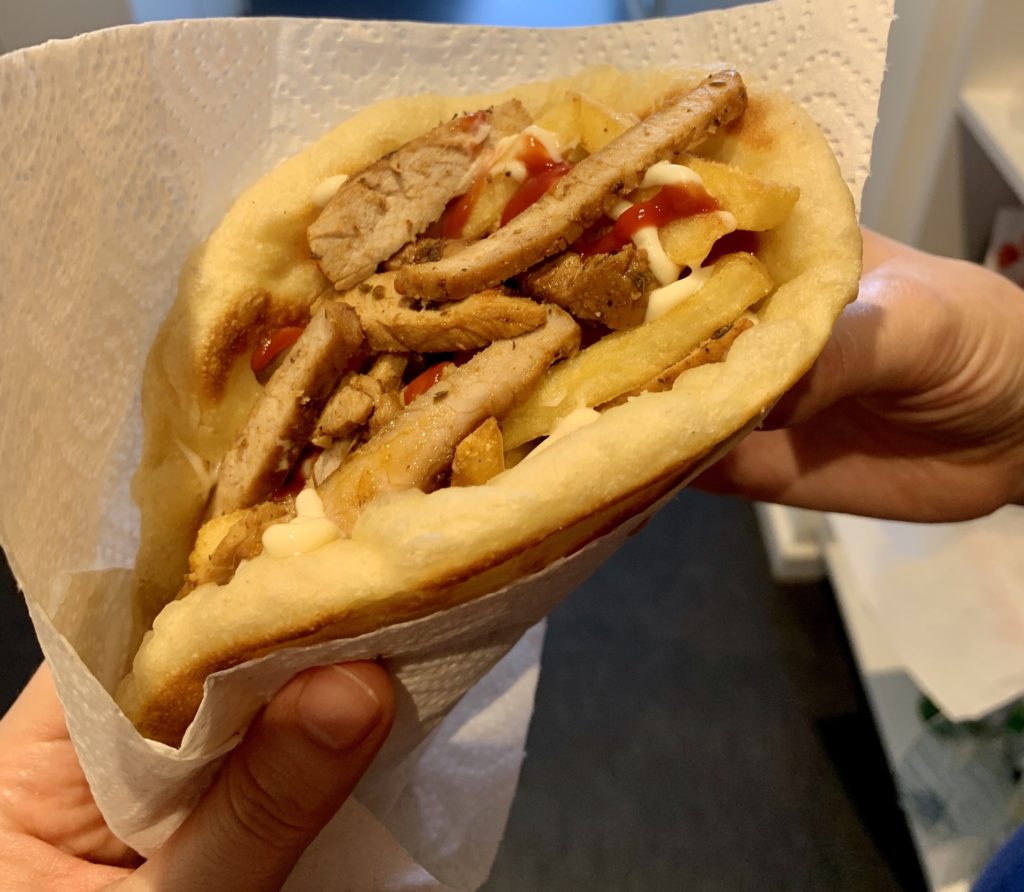 Ingredients
A pinch of sugar
2 teaspoons of active yeast
160ml of milk
80 ml of warm water
320gr of flour
0,5 teaspoon of salt
1 tablespoon of olive oil.
Step by step homemade pita bread recipe
Combine in a small container the water and the yeast. Let it rest for 10 minutes.
Combine the dry ingredients together in a big bowl – the flour, the salt, and the sugar.
Once the yeast has rested, combine the wet ingredients together.
Add the wet ingredients to the dry ingredients and start mixing. First with a spatula and then once the whole thing is starting to incorporate and become a bit sticky, with your hands
Properly flour a working surface so that the dough does not stick and work it. We worked it for 10-15 minutes – it's a proper workout 🙂
Once the dough is properly ready, take a deep bowl, and add oil to it. Add some oil to your hands as well, and rub around the dough. Place the dough in the bowl, cover it with a towel, and let it rest for 45 min to 1 hour. It should double in size.
With the dough doubled in size, you will need to oil a bit a working surface and place the dough in it.
Push it down so you let most of the air out, give is a quick stretch, and cut it in even pieces. You should make with this much flour 6-8 pita breads. Now in here, tackle it as you see fit as it is important to adjust to your pan.
Out of the pieces, with your hands, make them in small balls.
Put a pan in medium heat and add just a bit of olive oil.
Roll the balls in thin circles to the size of a pita – in other words, fairly thin.
Add the pitas in the hot pan and cook it 1 minute each side.
While one pita is cooking, you should be rolling the next.
That's eat – now combine everything and make some great pita bread! Also check this easy lentil soup video recipe.