This homemade hummus recipe is a cheaper alternative to the store-bought, 3 euros for 150gr of "bland tasting not really hummus" + this game-changing trick.
I have updated the approach with a couple of different things to consider. Check this How to make hummus recipes
tl;dr: combine chickpeas, lemon juice, tahini, garlic, salt, olive oil and blend them.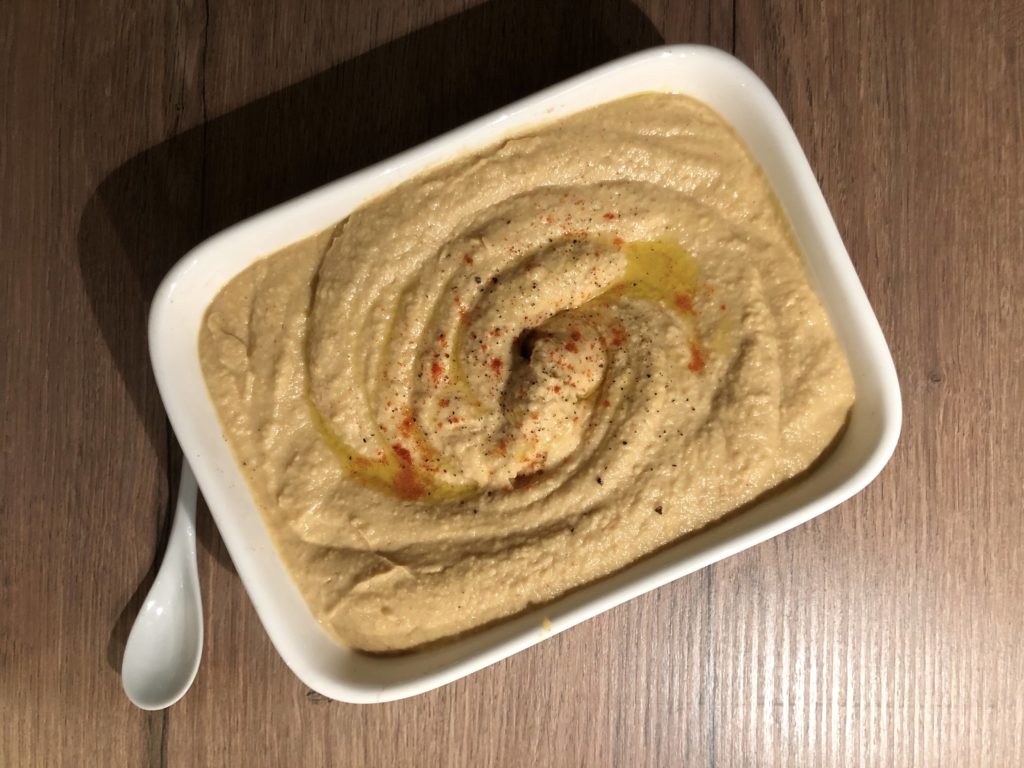 A while back I read in this book this crazy tip and since then has changed my hummus making approach. Can chickpeas usually come with this really brittle skin – get rid of that. It will make your hummus SO MUCH smoother.
A smooth hummus goes awesomely with any type of dipping condiment. Any type of fresh vegetable works, that being fennel, carrots, cucumbers, celery – whatever. Also, any type of toasted bread works. This is generally served with toasted pita, but whatever works
Ingredients:
1 can of chickpeas
Juice of 1 large lemon
4tbs of tahini
1 garlic clove, minced
2 tbs of olive oil
Salt to taste
The homemade hummus recipe:
In a food processor, add the tahini and the lemon juice. We need to blitz it for 30 seconds, scrape the sides, blitz again, scape the sides, and blitz for the third time.
Add the minced garlic, the olive oil, and a bit of salt. Blitz for 30 seconds, scrape the sides and blitz again.
Strain the chickpeas. And blend them too. I would recommend adding them bit by bit for a smoother dip.
Done
How to adjust:
Depending on the tahini complexity, chickpea type, and your taste if after you have blitzed you will need to adjust. If the hummus is too chunky, add one or two tablespoons of water and scrape the sides. Blitz for 30 seconds, scrape the sides and do it again
I am sure that you got the approach of blitzing for 30 seconds and scraping sides.
As always, do not forget to check out our Instagram for more cool posts, or better yet, this awesome salad to pair it with.