The eggplant parmesan casserole is one of those misunderstood dishes that you expect to be an abomination with a whole lot of parmesan, but it's not!
tl;dr: saute the eggplant slices as you see fit, and layer in a casserole with marinara sauce, mozzarella, and parmesan shavings. Bake it for 20 min or till the cheese has melted properly.
This casserole features parmesan as an addition between the layers, as it is an ingredient with a whole lot of flavor which we need to be gentle. We will use it as a flavor provider rather than actual ingredients. Also, parmesan is stupidly expensive and this is supposed to be a very simple and cheap dish.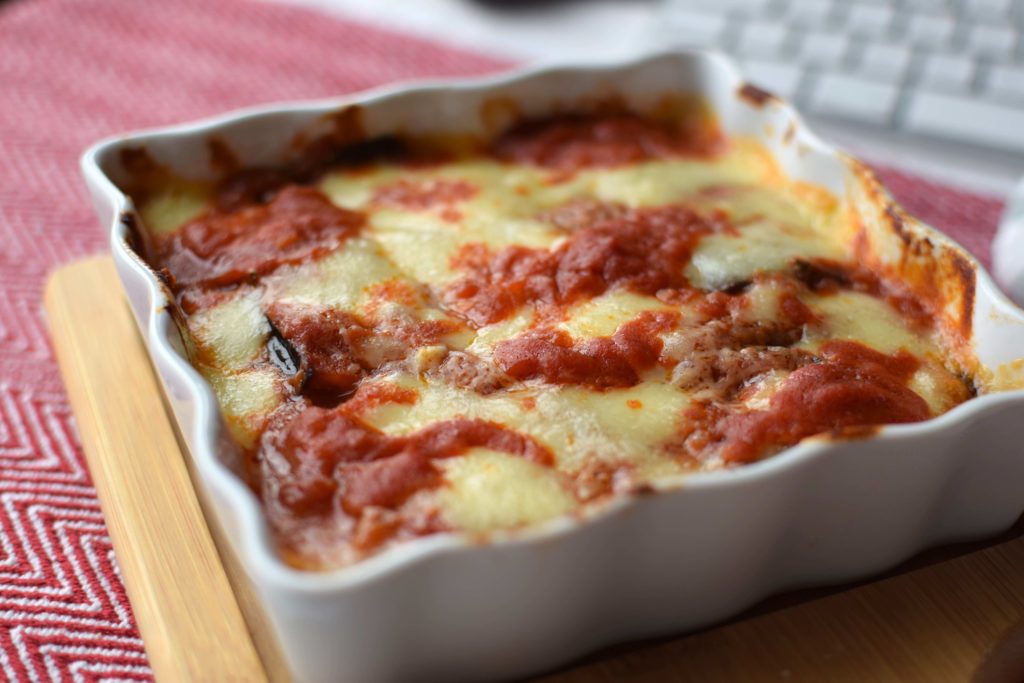 One big comment though: aim for small casseroles rather than huge containers!
Ingredients:
1 eggplant, sliced
1 fresh mozzarella which is around 120 grams
a bit of grated parmesan
1 can of chopped tomatoes
1 garlic
a bit of basil
olive oil, salt, and pepper
A bit of flour
Eggplant parmesan casserole recipe
In a pan add olive oil and the chopped garlic. Let is simmer for a bit and then add the can of chopped tomatoes + a bit of water (half to the chopped tomatoes can), bring to boil, lower the heat and let it simmer for 30 min to 1 hour depending on how thick you prefer the sauce to be. Add salt and pepper to taste.
Slice the eggplant and salt it. Let is be for about 10 minutes as we want to extract the bitterness and the excess water. After the 10 minutes, dry them with a paper towel and they are ready to be cooked
Cook the eggplant your preferred way. However, you want to make them is perfectly fine.

If you want a low-calorie approach, then just grill them.
The alternative would be to flour them and fry in high heat. This is the meet us in the middle type of way. Do not forget to salt and pepper the flour as it will make a major inpact
Some others do a full egg/flour/breadcrumb baste, but I tend to think that it makes the whole casserole a bit too heavy

Preheat the oven to 180 degrees.
In a casserole layer in this order: sauce, eggplant, a sprinkle of parmesan, fresh sliced mozzarella. Fill the casserole up however you want but the last layer should be a sprinkle of parmesan
Bake for 20 minutes
Ready
Check out my youtube channel for more and this amazing salmon pasta for another easy dinner idea.