The chicken risotto is one of those cheap down to earth dishes that anyone can cook and should cook. It is packed with all the nutrients that you need for a delicious full meal, whilst just costing peanuts.
tl;dr: sear the chicken all around. add the rice and sear it as well, add the water and cook the rice and its ready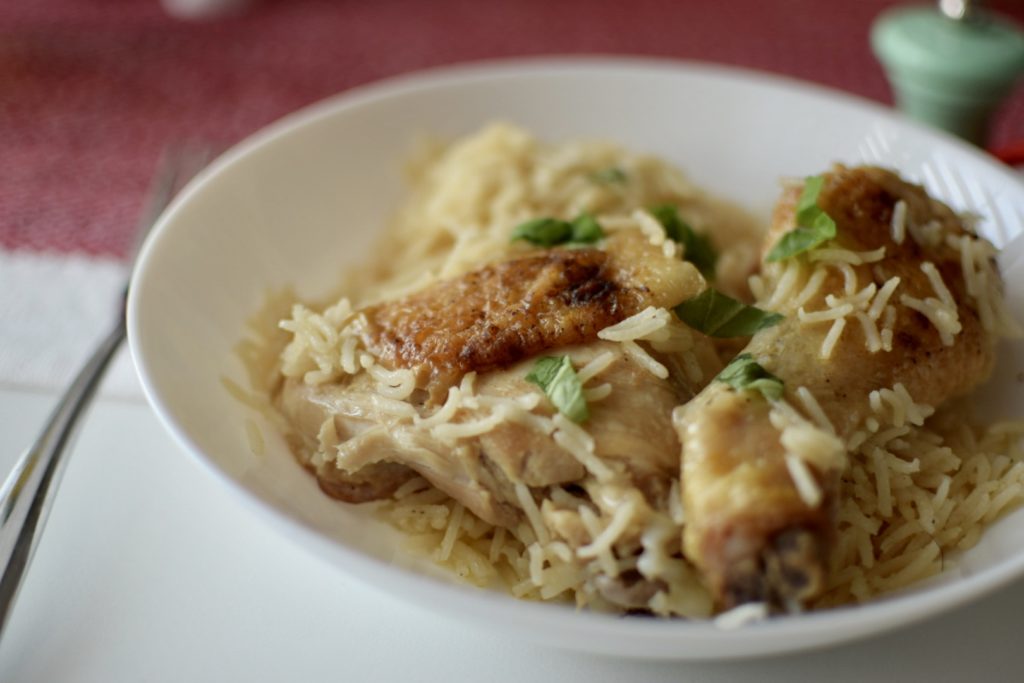 For two you will need these ingredients:
2 chicken legs, drumstick, and thigh with the skin or whatever part of the chicken that you have in your house.
olive oil, butter, salt, pepper and paprika
rice for two people – a bit less than a cup
Step by step recipe process:
Clean and wash the chicken legs. If you have them whole, divide the thigh and the drumstick if you have not already.
Marinate the chicken with salt pepper and paprika. Keep the skin on.
In a hot pan add love oil and just a bit of butter.
Sear the chicken, skin side down first. Let the skin crisp up without moving it for 3-4 minutes and then flip. Sear it all around so everything has a nice color.
Add a bit of butter, and then add the rice. Mix everything so the rice is coated with butter and oil and obviously coated with the chicken. as there is high heat, stir continuously.
Add water with the logic of 1 part rice, 2 part water.
Bring to boil, cover, lower the heat and cook the rice with the chicken for 15-20 minutes – till the rice is tender and the chicken is cooked.
You can serve this chicken risotto with a bit of yogurt on the side, or a nice delicious spinach halloumi salad and, if you are feeling frisky, post a photo on social media and tag @kitchenetterecipes so we can connect.