This feta and leek pie will either bring some Mediterranean memories or provide savory goodness with simple and inexpensive ingredients.
This is a staple Sunday lunch at my parents, especially during the summer. It's so delicious that I can't even begin to think about it.
Usually, the key delicious component here is the dough type. For the case of this recipe, we are using the tastiest is the pastry dough. The later is extremely versatile and easy to handle.
Some of the key comments that you should take with you:
pastry dough gets warm fast – so keep it in the fridge till before you start forming everything up.
the general approach is that you use pastry dough can be filled with almost everything savory or sweet that you can think of. We have added some other savory pie recipes for your general ideas such as a spinach and feta pie or tomato pie. They are all interesting and have their own approach.
You can approach it as a simple pocket or a general big pie depending on the specific pan that you will be using.
Having said that, there is a big basic recommendation to be taken into account when it comes to savory pies. The filling has to be properly savory, interesting, spiced up properly. For example, we are using freshly ground black pepper on the leek and feta pie. The reasoning behind is that the pepper, even after baking is always there, part of everything.
Check my youtube for a general idea on how to cook in a kitchenette.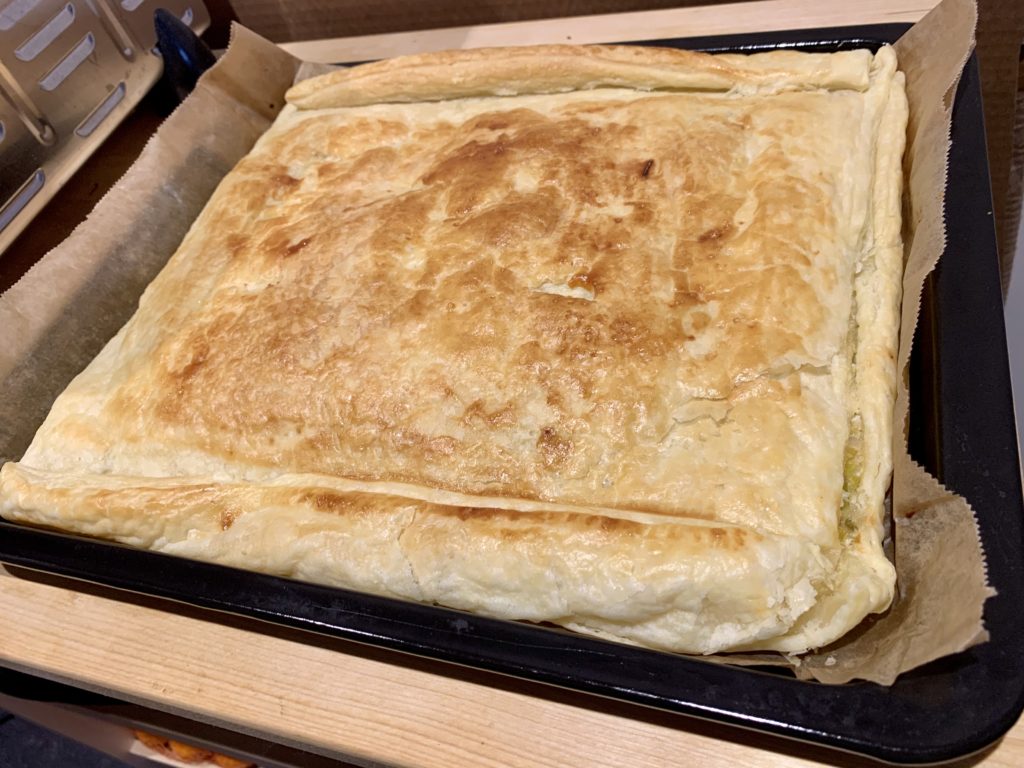 Read the full detailed recipe here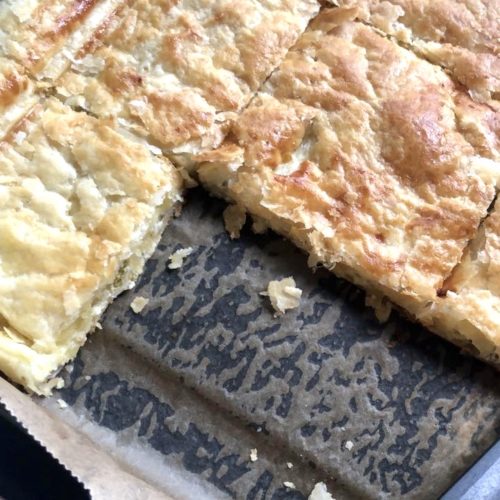 Feta and leek pie
This feta and leek pie will either bring some mediterranean memories or provide savory goodness with simple and inexpensive ingredients.
Ingredients
2

pc

medium leeks

50

gr

Feta cheese

1

egg

50

ml

milk

2

pc

pastry dough

olive oil

salt

pepper
Instructions
Peel the leeks and cut them in the middle, then in small pieces. Put the chopped leeks in water to thorogly clean them

After the leeks are cleaned, in a hot pan with olive oil and medium-low heat, let them sweat. Do not forget to make sure to mix them every once in a while. About half-way add some salt and a generous amount of freshly ground black pepper

The leeks are done when they are soft. It will taka e bit of time – around 30 minutes in a medium low heat in the pan.

Once the leeks are done, take them off the heat and let them sit for a bit.

Preheat the oven at 200 degrees

In a big bowl mash the feta cheese and add the egg and the milk. Mix them throughly

Add the leeks in the feta mixture and combine.

In an oven tray, covered with some parchment paper, lay in one of the pastry dough

Throw in the leek and feta mixture and spread it around. Keep in mind that you should leave some space on the sides, so you can stick the top pastry paper with the bottom one

Cover the whole thing with the other pastry dough and with a fork press on the sides so a pocket is formed.

Make some egg wash and spreadh on top of the pastry for a golden crisp – alternatively do not bother with this step.

With a fork, make 3-4 holes on the pastry dough

Place it in the oven for 15-20 minutes. It is done once the bottom is not soggy anymore.