The pasticcio is something that I was brought up with. It was always that quick bake that my mom would effortlessly get it done and let it cook. It didn't matter if it was too thin or too thick. If it wasn't salty enough or the pasta was just weird. It was still delicious.
Today we will focus on this three-ingredient goodie that I love. All you will need is pasta, feta cheese, and milk. Sometimes if the cheese is salty, you will not even need salt.
All you will need to get it done is to cook the pasta, crumble the cheese, add some milk, mix it with eggs and bake it till it gets golden brown. The beauty of it all is that you do not need fancy cheese – Just your regular feta. From these ingredients, you will get something that is so good and warm for the stomach that I can't even begin to define.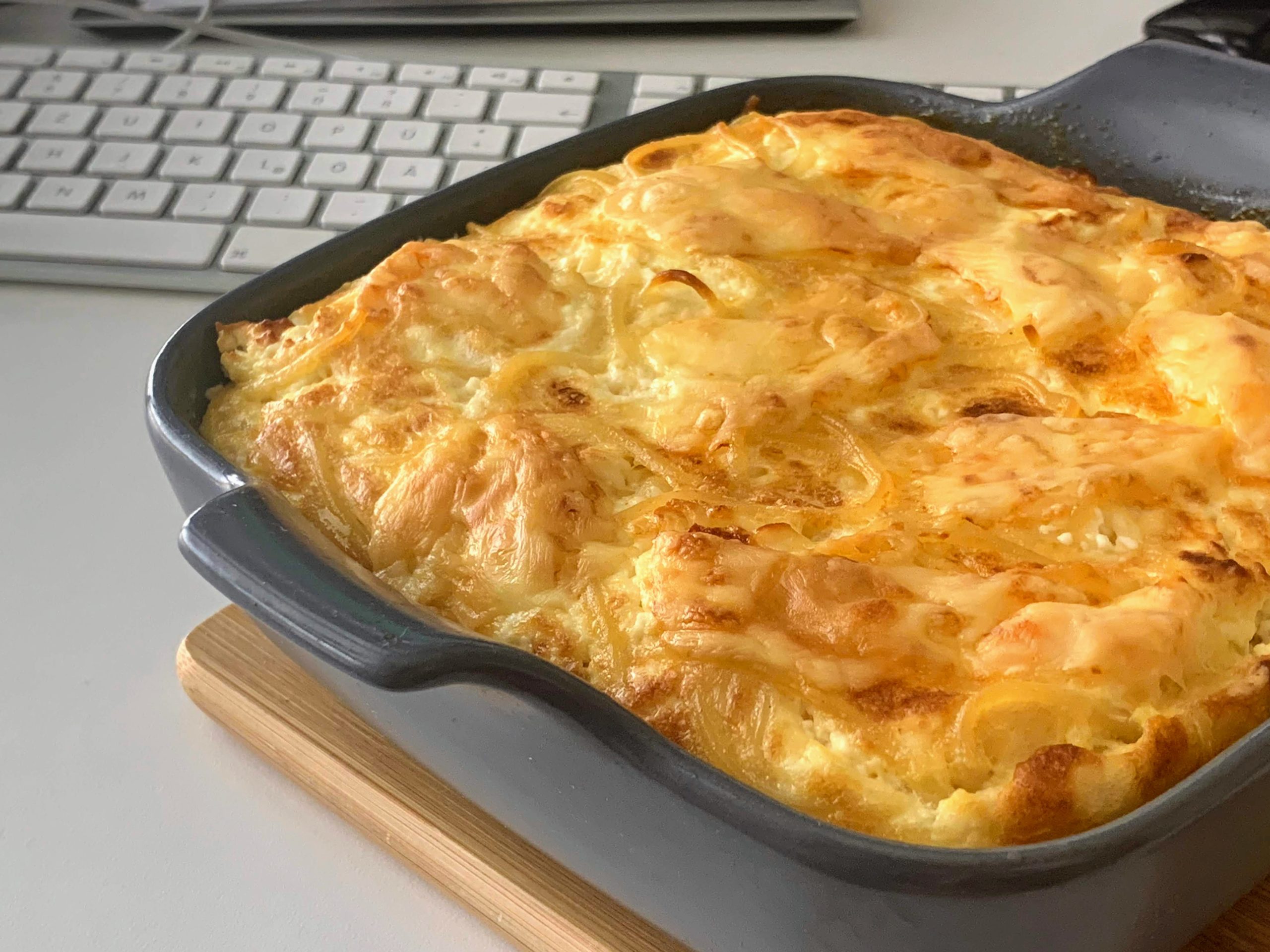 Just so you understand how cheap pasticcio is, for a proper meal for two, you will need, one glass of milk(30 cents), , 3 eggs (60 cents), half a box of pasta(45 cents), and 120-150 gr of feta cheese(1.2 eur) that comes with a total of 2.55 EUR for feeding two grown adults. I am telling you – this is THE cheap but delicious alternative at the end of the month
Obviously, there are plenty of cheap dinner ideas out there, but in my book, pasticcio is one of the best. You can eat it warm and cold. You can put a dash of tabasco to make it spicy if you leave it overnight. What else would you want more from life?
All you have to do it to combine pasticcio with some great lentil soup, and you are set in for the day. It gives you all the nutrients that you will need, without breaking the bank.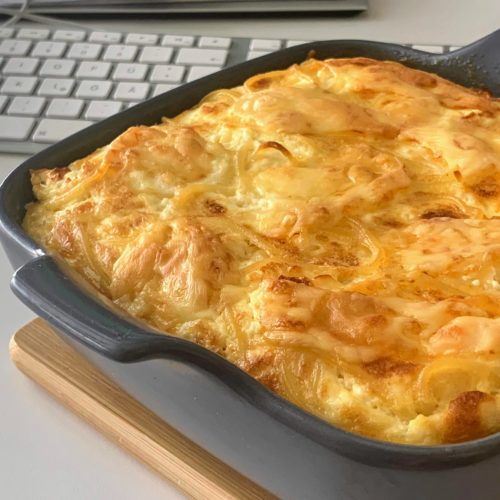 The pasticcio – a baked pasta alternative
My Pasticcio is one of those 3 ingredient baked pasta alternatives that is filling, inexpensive, and easy to make. Cheap dinner ideas!
Ingredients
1/2

Pasta box

Whatever pasta works

120

gr

feta cheese

crumbled

1

cup

milk

3

eggs
Instructions
Cook the pasta in salted boiling water by using the recommended time on the packaging

Crumble the cheese. The more you crumble it the better in my view, but whatever works

Add the eggs and combine with the cheese

Combine the cheese and milk together. Cheese first and then the milk bit by bit. We are looking for a liquidy mixture.

Preheat the oven at 180 degrees

Combine the pasta and the mixture in a casserole. After you combine them, make sure to taste the liquid for seasoning

Bake them for 40 minutes or until the dish is golden brown and there is no more liquid.

Let it sit and do not cut until it cools down