Tuna tomato pasta with canned goods is one of those cheap yet filling and nutritious recipes that you can make at the end of the month.
Why is this inexpensive?
Let me put it in perspective, shopping in one of the most expensive supermarkets here in Germany – which is Rewe; here are the prices:
1.19×2 for two tuna cans,
0.89×1 can of crushed/chopped/whole tomato,
any type of pasta like penne 1.69×1
= 4.96 for 4 portions is 1.24 eur per portion.
Note though – I would not cook for 4 people, but usually for 2 as it is easier and more manageable in a kitchenette and you make less stuff dirty.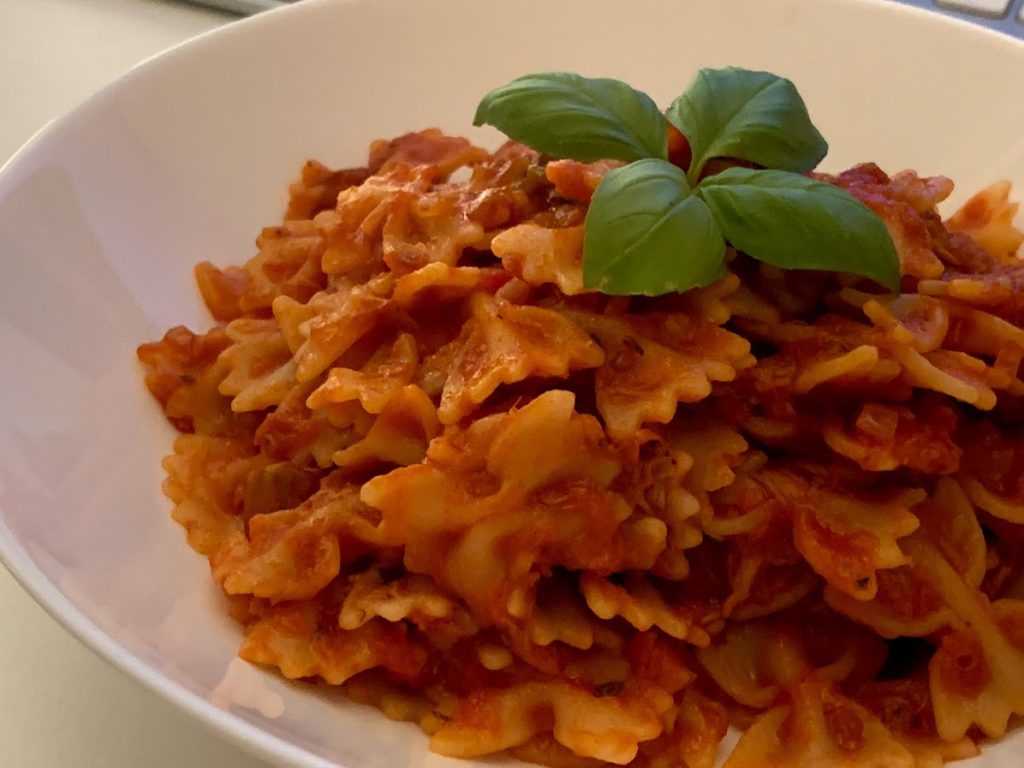 Ingredients:
1 can of tuna, preferably in olive oil so we can use that oil
half of an onion
one garlic clove
half a can of crushed/chopped/whole tomato
some sort o pasta
Maybe just a bit of milk or some sort of hot pepper to make things interesting
Salt and pepper to taste
Tuna tomato pasta recipe
put a bit pot with water to boil. Add a bit of salt and pepper.
Chop the onion and the garlic finely
Add the oil of the tuna in a hot pan and cook the onions and garlic in a medium-high heat till translucent. While cooking them marinate with salt and pepper – salt will help the cooking easily. If you want to add some hot peppers, now it's time to chop them and add the min.
Add the tomatoes and bring to boil. I usually add half of the size of tomatoes in water just to make the reducing a bit easier. Add a pinch of sugar if you are using real tomatoes.
Lower the heat and reduce. I usually add the tuna at this point, as it incorporates better and you have a very good idea of the amount of the sauce.
I usually reduce the sauce within the time it takes for the pasta to cook. So just start cooking the pasta now. They should be done in like 8-10 min depending on the manufacturer
Sometimes depending on the feeling, if you don't want it to be too tomato-y I cut the sauce in the end with a bit of milk – it will make the sauce smoother. In this case, I did not.
Check out my other pasta recipes if you feel it tho.