Lazy Sundays at home either require some complicated and very fancy lunch menu or a very easy and hear warming dish. After we want for a walk around Frankfurt (which to be honest on a Sunday morning is a ghost town) we felt like pesto, tomato and burrata pasta of some sort.
Let me explain why specifically we chose these ingredients
Pesto
Because you need a sauce base and we have been recently just using the Barilla pesto al Genovese which to be brutally honest is a great addition to your cupboard as that small bottle is good enough for 3 pesto pasta meals for two.
Tomato
Cherry tomatoes to be exact. The sauce needs a little bit of acidity which makes a whole lot of difference and the cherry tomatoes are always packed with that delicious acid flavor
Burrata
My cheese weapon of choice. The sauce and cherry tomatoes are packed with so much flavor that you need something to tone it down – and there is nothing like a soft and smooth burrata to handle everything.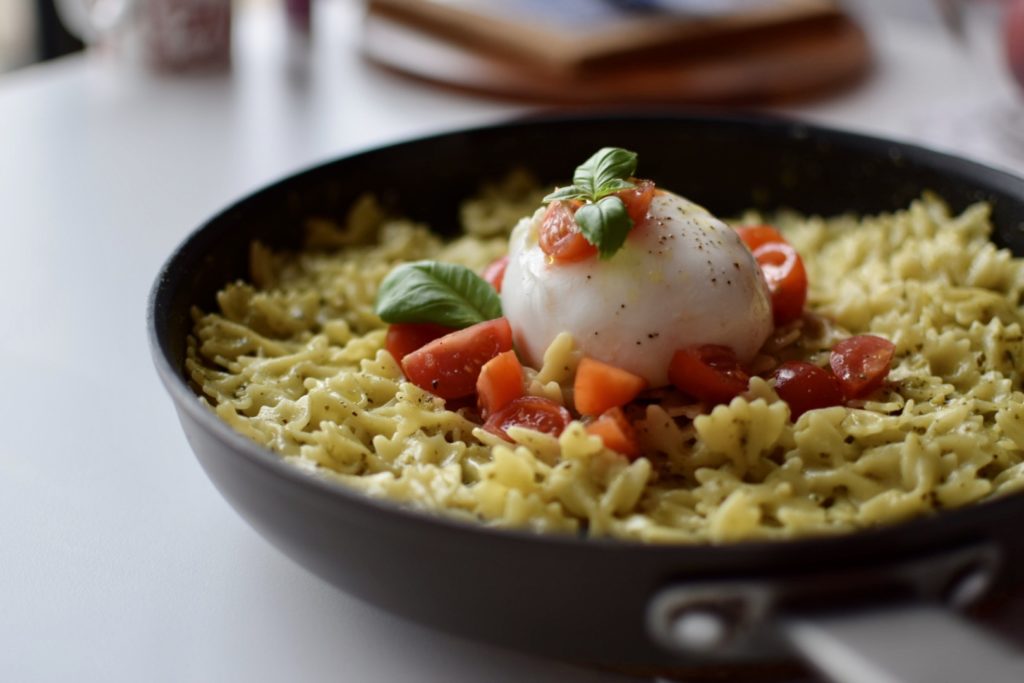 Last but not least: Kitchenette proof
This is a fairly important component as you don't really need to have a lot of space and there is practically zero prep going on. You can even try to do it in one pan if you have one. Just dry the pasta first and then cook the pesto in the dried pan
What do you need:
Some type of pasta. I used small farfalle because that's what was available
Pesto al Genovese – pick your favorite brand in the market. you don't have to make it yourself.
A bit of milk
Some cherry tomatoes
one burrata.
Salt, pepper and olive oil.
How to get it done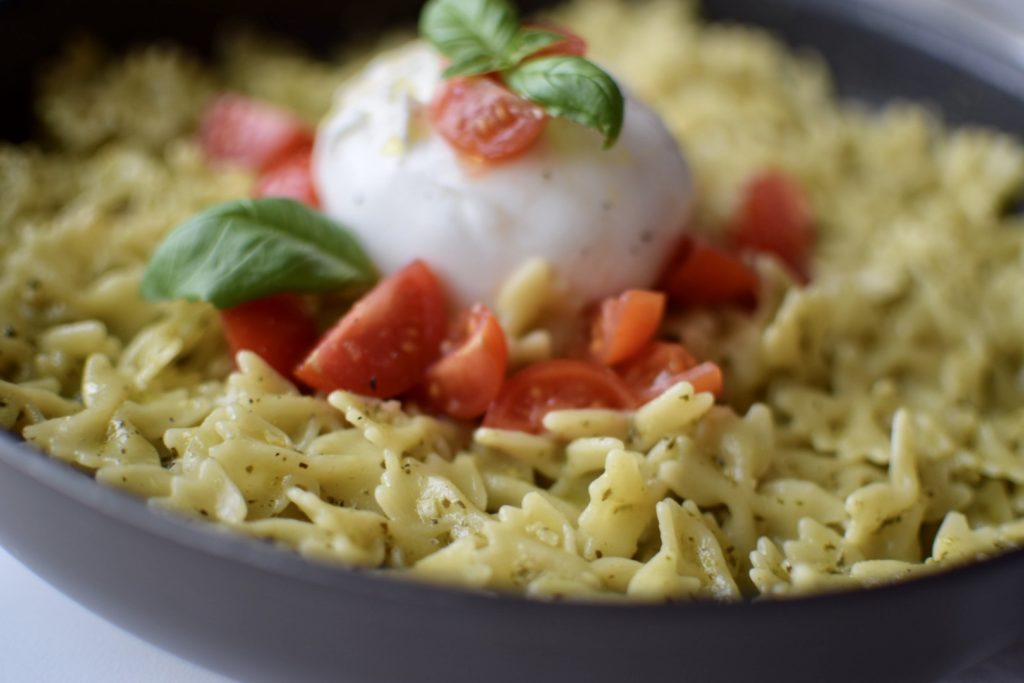 Boil the pasta water with a bit of salt and olive oil
Cook the pasta 1 or 2 minutes less than the recommended cooking time
Reserve some of the cooking water.
In a hot pan add a bit of olive oil and a tablespoon of pesto sauce.
Add a splash of milk and mix everything up.
Drain the pasta when they are almost ready and add it to the pan with the pasta water that you reserved
Start stirring everything and turn off the heat
Stir everything until the water has been retained.
Add the cherry tomatoes and mix everything up
Serve with a quarter of the burrata and some cherry tomatoes
Btw – the basil on top is from our small basil plant. Also if check https://www.kitchenetterecipes.com/cacio-e-pepe/ for something in the same level of simplicity